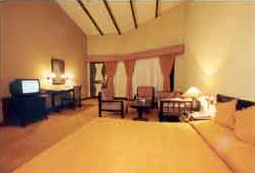 Breathtaking view outside.......
5 star comfort inside Dining and Entertainment | Recreations

DINING AND ENTERTAINMENT

MORE PLEASE...
Multicuisine Restaurant

Our Chef creates innovative menus with rich diversity of tastes with seasonal flavours. More Please serves delicious Indian, Continental, Chinese, Italian and Mexican food in Dickensian setting.

DOWNING STREET... Bar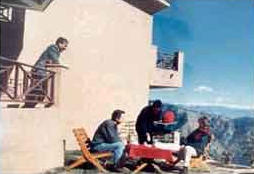 Guests can relax here having there favourite drink. Our barman mixes exotic cocktails for you to enjoy in misty mountains.

RAIN SHELTER... Tea Lounge
Enjoy English tea and Muffins in the land of quiet with a view of snow cascades.
SCANDAL POINT... Disco
It's really a different dancing club. It is called Scandal Point.
TERRACE RESTAURANT
Live in the best of two worlds, tandoori chicken, patiala peg and bonfire an ambience and atmosphere to forget everything.
TERRACE GARDEN
An elevated garden between the club house and the cottages gives enchanting view of the pine forest below. You can organize a party, bar-be-que or even the kite flying competition.